IT'S 2017 MUG TIME!!
SUPPORT THE IAP!! GET YOUR 13th Anniversary Mug!
Numbered Large Mug
•
Unnumbered Small Mug
(These links take you to our ProPay shopping cart)
Questions, Comments -->
Mug Sale Discussion Thread
If you reserved a number in THIS THREAD, that's what you'll receive.
INCLUDED with your purchase, a 2017 Can/Bottle Koozie AND our Brand New Sticker
Buy either MUG ($50 each) and we'll enter you in our
Donation Drawing
.
Donation drawing details will be posted when the Bash starts on Feb 1.
We conduct the drawing at the end of the Bash, usually Feb 28
.
=================================
2017 Add-On Items
These items are only available when you buy a mug!
PLAIN
(NO-POCKET) T-SHIRT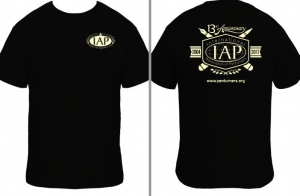 NO-POCKET Shirts - Click the size link to order
M
,
L
,
XL
($12),
2XL
($14),
3XL ($15)
,
4XL
($16),
POCKET
T-SHIRTS!!
POCKET SHIRTS ARE ALL GONE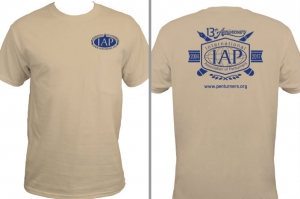 POCKET Shirts - Click the size link to order
L, XL ($15)
,
2XL ($17)
,
3XL ($19)
,
13th ANNIVERSARY ENGRAVED PINT GLASS - $10
GLASSES ARE ALL GONE
This is the mock-up image. Better pic below.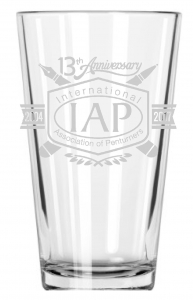 Click to order the Pint Glass ($10)
We have a few remaining Embroidered Cloth Patches for $4 each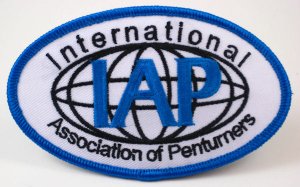 Your purchase includes shipping by US priority mail.
If you're outside the US and want to help us with international shipping,
you can use one of the "Extra Donation" links on the order page. THANKS!
Look for details on other donation options
and
free
Donation Drawing entry once the Bash begins on Feb 1.
NOTE:
Buying more than one mug DOES NOT increase your chance of winning something in the drawing.
The donation drawing isn't a raffle, it's just our way to say thanks for your continued support of the IAP.
Your name goes into the hat just one time for the drawing.
Questions, Comments -->
Mug Sale Discussion Thread
Some Additional Item Detail
MUGS: These are limited edition mugs. When these are gone, they are GONE! These are made in Wisconsin, USA. As a handmade product, they have imperfections, and no two are exactly alike. They are lead-free, oven-safe, microwave safe, and dishwasher safe. They are very enjoyable to use. I have been using a 5th year mug several times a week for over 5 years and it looks perfectly new.
The Large Numbered Mug
The color is called "Iron Gray". 4-1/8" tall and hold 16 ounces to the brim. This is the same style as our 6th anniversary mug, which was one of the most popular ever.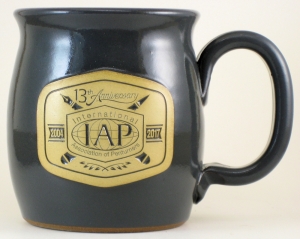 View in gallery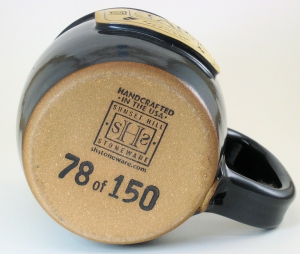 The Small Mug
The color is called "Lava Rock"; black on the top and brick red on the bottom. It's 3-5/8" tall and holds 10 ounces.
We don't have a desk cup this year, but this small mug is a great pen holder. These are not numbered.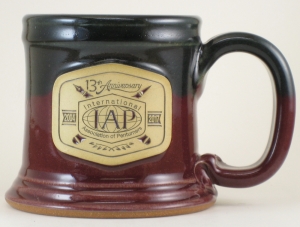 The Engraved Pint Glass
I have finally located a reasonably-priced source for sandblasted glassware and I'm extremely happy with the quality. The logo on this item is slightly different than the other items - the globe doesn't have internal lines. I thought it might look a bit more distinctive with the "IAP" uncluttered. Also, I am no photographer, and glassware is especially difficult for me to photograph. So I sacrificed a Great Lakes Oatmeal Stout for the photograph. Beer not included, unless you want to visit Cleveland and I'll buy the first round.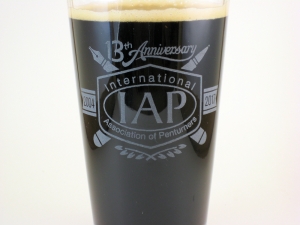 This is your standard pint glass, 5-3/4" tall and holds 15 ounces (an "advertising pint" maybe!)
Questions, Comments -->
Mug Sale Discussion Thread