This is a Paua Abalone Heart shell blank for the Zen magnetic cap pen kits .
These blanks are quite difficult to make due to the long lengths of the shell strips needed .
The Paua abalone heart shell strips are wild looking and have crazy looking patterns to them .
They make a stunning pen that fetches a high price at shows .
Sharp tools are advised , this blank is cast in PR . it turns well and polishes to a high shine .
The price for this blank is $50 plus free shipping via first class mail or $7.50 via priority mail w/tracking .
PM me and I will send a Paypal invoice
Please excuse the crappy photos , it's the best I could get with my crappy phone , the blank loos much better in person

View in gallery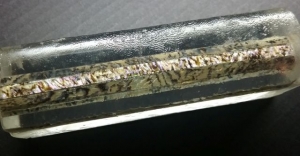 View in gallery
Any questions please ask here or PM me
__________________
Butch
Kitless Fanatic
The simplest method is usually the best solution (Me

)
Any fool can know , the point is to understand (Albert Einstein)
There are no mistakes....Only happy accidents (Bob Ross)