$225.00
I've probably used this saw in total 12 times; and it works, as expected, like a brand new saw. I paid over $ 350. for this new. My problem is that I no longer need a tilting arbor saw; and should have returned it before my 30 days were up. So.. my loss, your gain, if you are in the market for an excellent mini-saw.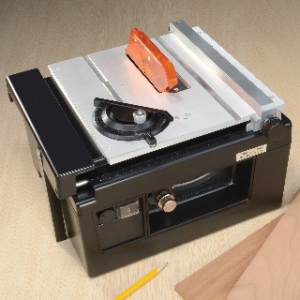 View in gallery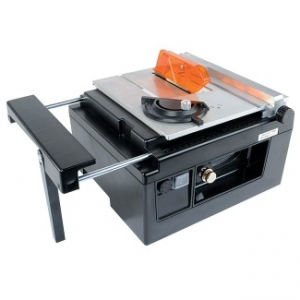 View in gallery
It comes with all the bells and whistles as below:
Features:
High torque, electronically rectified DC motor produces more torque and power than many motors rated at 1/2 hp and higher. And torque remains high, even at low rpm.
Variable speed, from 3,600 to 7,000 rpm. Lets you cut plastic, aluminum, brass and other non-ferrous metals without overheating.
Tilting arbor for angle cuts up to 45 degrees.
Cuts a full 1 inch at 90 degrees, 3/4 inch at 45 degrees.
Blade height adjusts from 0 to 1 inch.
11-1/2 inch x 9-1/2 inch table with 9-1/2 inch x 9-1/2 inch machined aluminum surface.
Two miter gauge slots for cutting from left or right side of blade.
Ball bearing spindle.
No-slip timing belt for more torque.
Vacuum cleaner attachment.
Up-front controls for on/off, speed, blade height and tilt.
Table extension for cross-cutting long sheet stock.
Plugs into standard 120v AC outlet.
Compact size. Only 10 inches long x 11-1/2 inches wide x 7 inches high. Weighs approx. 11 lbs.
1 year limited warranty.
Similar to Proxxon model FKS/E.