After a few posts and an introduction, I took some pictures this weekend of some of my pens.
This slimline is birdseye maple, although I took the wrong view and you really can't see the birdseyes. I've been using this pen almost daily for the past 5 years. The original finish was probably tung oil. It has developed a nice patina from handling over the years.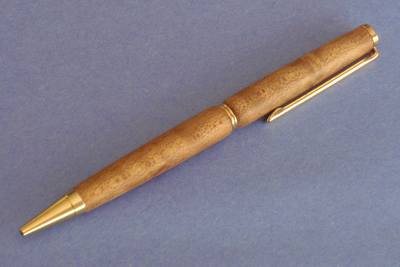 This was my first and only aluminum pen so far. I started off trying to give it a shiny appearance, but didn't like the fingerprint magnet it was, so gave it more of a brushed appearance. I enjoyed turning this - it will likely not be my last aluminum, if/when I get more aluminum stock.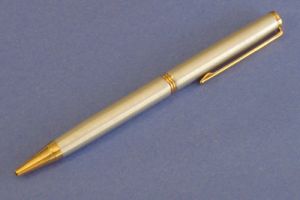 Black & white ebony on a black chrome slimline. Very nice wood to turn - cuts very smooth. Finish on this is wipe on polyurethane.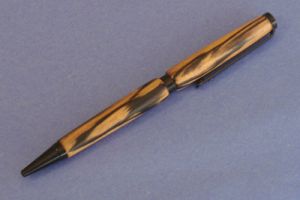 Blackwood on a 7mm platinum roundtop from CSU. Can't see it on this photo, but I learned on this pen that CA used to glue the centerband onto the tenon is a good way to screw up your existing finish. Wipe on poly finish on this one, with a glossy smear of CA right around the center band.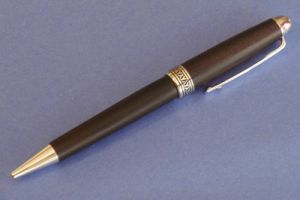 0.7mm click pencil using double-dyted box elder burl. This one really has a plasticy look to it, more so than most other stabilized burls I've turned.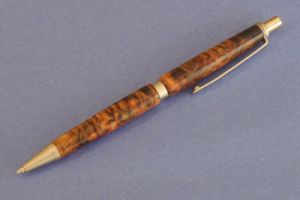 Madrone and cocobolo. This one is around 5 yrs old, so I'm guessing the finish is tung oil.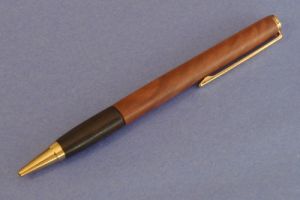 Zebrawood slimline. Finish is wipe on poly.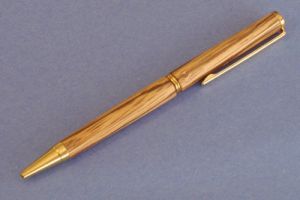 This is the newest of the group - turned it fresh today, and is my first cartridge/bullet pen. A co-worker gave me the brass and bullet for a 300 weatherby. The antler is mule deer from Saskatchewan. The cartridge on this one is exceptionally long, with only around 1/2" of the transmission extending beyond the brass. I first shortened the upper barrel by about 1/2" to compensate and make the pen roughly the same length as standard slimlines, but I forgot about the clip - it extended too far. This upper barrel is the second one made for this pen.
When I rec'd the brass, the primers were still in place, but inert. I had to modify a punch to knock these out. Drilling was pretty straight forward on the brass. For drilling the bullet, I learned that clearing the lead cuttings frequently was a must -- the drill bit bound in several bullets before I finally got one to cut through cleanly. Since I used pliers to remove the other bullets from the drill bit, they were too marked up to use.
Polish on the brass/copper is direct from my co-workers tumbler, with a "silvo" polish, no sanding --- I didn't have any brasso. Final wax with Renaissance Wax. Antler was sealed with CA, then sanded to 1500 grit then polished with plastic polish.
I don't like the clip fit on this pen though - with the thick curvered upper barrel, the flat slimline clips hug the body too closely. For my next one, I'll probably use one of the designer/ball clips, or even one of the euro clips and caps. I also don't like the gold match between the TN (from Berea) and the polished brass. Normally for antler, I like satin nickel fittings or black titanium, but I don't know how either will look with the brass/copper. Likewise, I don't know how the slimline copper fittings would match up with the polished bullet color. I may just end up making my own clip from brass rod next time. I'm open for suggestions on matching the clip to the cartridge/bullet for these style of pens.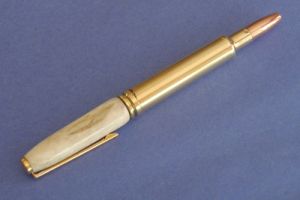 Comments and critiques are welcome.